We have a new home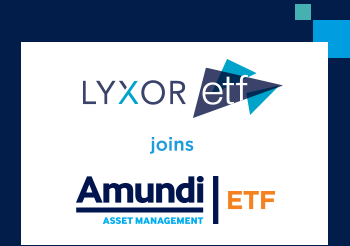 Read more
Fight against climate change
In 2015, 194 countries signed a ground-breaking treaty to fight climate change: the Paris Agreement. The goal of limiting global warming to 2°C above preindustrial levels, and aiming for no more than 1.5°C, is ambitious but achievable.
With the help of our pioneering ecosystem of climate ETFs, investors are now better equipped to contribute to this ambition. The first of their kind in Europe, our unique funds are designed to be entirely consistent with the carbon emission reduction targets of the Paris Agreement, and aim to meet the official requirements of the EU's Climate Transition and Paris-aligned Benchmarks.* If the issue is as close to your heart as it is ours, start the low-carbon transition today, and help #ShiftTheTrillions
Why Lyxor for climate investing
Accomplished
The first ecosystem of ETFs designed for EU PAB and CTB eligibility*
Green
A simple way to help transition to a low carbon world (+1.5°C pathway)
Science-based
Grounded in the expertise and recommendations of the IPCC, EU TEG & TCFD
Dependable

Indices built by S&P and MSCI, leaders in indexing and ESG data
Far reaching
Broad-based exposures covering global, US, European, eurozone and EM regions
*Source: Lyxor International Asset Management, as at 08/07/2020. Statements about Lyxor credentials refer to the European UCITS ETF market only. Underlying indices are not currently considered EU PAB or CTB benchmarks, but will aim to be depending on final requirements of EU Delegated Acts as regards EU Climate Transition Benchmarks.
Help contribute to the ambitions of the Paris Agreement
With climate change, the stakes have never been higher. It's not too late for investors to make a difference, but we need to start today.
​
François Millet, Head of ESG & Innovation
The impact of ESG momentum on valuations
Can changes in ESG ratings affect stock prices?
Ground-breaking research from MSCI illustrates the link between the evolution of a company's ESG score and its stock price.
GDPR disclaimer
All personal data are collected in compliance with applicable laws and regulations and the Lyxor privacy policy.
For more information about how we process your data, please refer to the terms and conditions of our website https://www.lyxoretf.com.
You have a right of opposition, at any time and free of charge, to the use of your personal data for the purpose of commercial prospecting or communicated to third parties for that purpose.
You may exercise this right by sending your request to the data protection officer at the following email address:
client-services-etf@lyxor.com.