We have a new home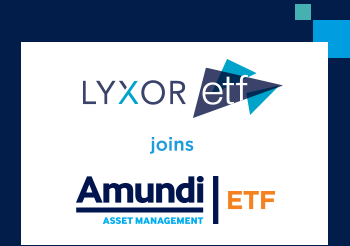 Read more
Investing in ESG standard setters
Rather than striving to achieve a specific impact, our broad ESG Leaders ETFs could appeal to those investors simply trying to "do something" with their money by make a broader, positive contribution to society. We partnered with MSCI, a leading expert in ESG data and scoring, to help identify those companies possessing a robust ESG profile. While our Europe ESG Leaders fund targets the ESG champions of today, our Trend Leaders funds go one step further by also rewarding companies who have successfully improved their ESG rating over the previous year.
Guides and Downloads
The impact of ESG momentum on valuations
Why Lyxor for ESG Leaders
Far reaching
World, European, US and Emerging exposures available
Dependable
Stock selection based on MSCI's 40+ years of ESG expertise
Innovative
First ESG ETFs in the market to include ESG trend scores
Responsible
Companies from sectors with a negative ESG impact excluded
Accomplished
Over 11 years' track record in sustainable ETFs*
*Source: Lyxor International Asset Management. Data as at 25/03/2019.
Helping the transition
We're leaders, not followers, waving a flag for responsible investing and educating investors about its benefits.
​
François Millet, Head of ETF and Index Product Development
The impact of ESG momentum on valuations
Can changes in ESG ratings affect stock prices?
Ground-breaking research from MSCI illustrates the link between the evolution of a company's ESG score and its stock price.
GDPR disclaimer
All personal data are collected in compliance with applicable laws and regulations and the Lyxor privacy policy.
For more information about how we process your data, please refer to the terms and conditions of our website https://www.lyxoretf.com.
You have a right of opposition, at any time and free of charge, to the use of your personal data for the purpose of commercial prospecting or communicated to third parties for that purpose.
You may exercise this right by sending your request to the data protection officer at the following email address:
client-services-etf@lyxor.com.