We have a new home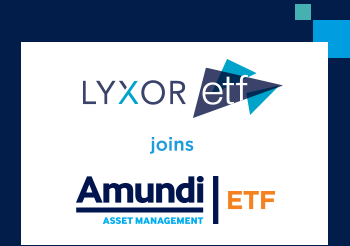 Read more
Preparing for the investor of tomorrow
The ETF market is growing faster than ever before, attracting new investors every day. Our reach spans right across Europe, extending from institutional investors to individual retail clients.
New regulations like MIFID 2 and PRIPs are fuelling this rise, attracting new clients like wealth managers to the market. This has strong implications for us and the range we offer.
We are making changes to our range now so that we can answer the needs of all of our investors now, and in the future.
The ETF market is more diverse than ever before. We are making the changes now to ensure our ETFs meet the needs of every investor.
Arnaud Llinas,
Head of ETFs & Indexing
ETF Lyxor convertis en SICAV Luxembourgeoise
| Date | Fonds | Mnemo | Q&A | Identifiers | Prospectus | Notice | KIID |
| --- | --- | --- | --- | --- | --- | --- | --- |
| 17/01/2019 | Lyxor STOXX Europe 600 Banks UCITS ETF - Acc | BNK | | | | | |
| 31/01/2019 | Lyxor STOXX Europe 600 Industrial Goods & Services UCITS ETF - Acc | IND | | | | | |
| 21/02/2019 | Lyxor China Enterprise (HSCEI) UCITS ETF - Acc | ASI | | | | | |
| 21/02/2019 | Lyxor MSCI AC Asia Pacific Ex Japan UCITS ETF - USD | AEJ | | | | | |
| 21/02/2019 | Lyxor MSCI Korea UCITS ETF - C-EUR | KRW | | | | | |
| 21/02/2019 | Lyxor MSCI Taiwan UCITS ETF - Acc | TWN | | | | | |
| 21/02/2019 | Lyxor Commodities Thomson Reuters/CoreCommodity CRB EX-Energy TR UCITS ETF - Acc | CRN | | | | | |
| 21/02/2019 | Lyxor Commodities Thomson Reuters/CoreCommodity CRB TR UCITS ETF - Acc | CRB | | | | | |
| 14/03/2019 | Lyxor MSCI Indonesia UCITS ETF - Acc | INDO | | | | | |
| 14/03/2019 | Lyxor MSCI Brazil UCITS ETF - Acc | RIO | | | | | |
| 14/03/2019 | Lyxor MSCI Eastern Europe ex Russia UCITS ETF - Acc | CEC | | | | | |
| 14/03/2019 | Lyxor MSCI EM Latin America UCITS ETF - Acc | LTM | | | | | |
| 14/03/2019 | Lyxor MSCI South Africa UCITS ETF - Acc | AFS | | | | | |
| 14/03/2019 | Lyxor MSCI Thailand UCITS ETF - Acc | THA | | | | | |
| 14/03/2019 | Lyxor MSCI Turkey UCITS ETF - Acc | TUR | | | | | |
| 14/03/2019 | Lyxor MSCI Select OECD Emerging Markets GDP UCITS ETF - Acc | LEMO | | | | | |
| 14/03/2019 | Lyxor MSCI Malaysia UCITS ETF - Acc | MAL | | | | | |
| 14/03/2019 | Lyxor MSCI Russia UCITS ETF - Acc | RUS | | | | | |
| 14/03/2019 | Lyxor MSCI Russia UCITS ETF - Dist | RUS | | | | | |
Find out more about Lyxor
Téléchargez
​
Présentation de Lyxor ETF

Découvrez notre histoire de pionniers des ETF
Download
​
The Lyxor product range is evolving
Arnaud Llinas comments on the rise of Lyxor