We have a new home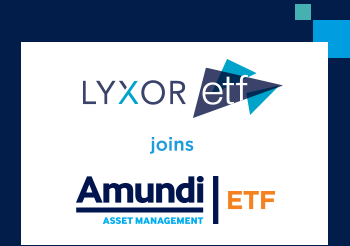 Read more
All data: Lyxor, Macrobond, 18 May 2017.
THIS DOCUMENT IS DIRECTED AT PROFESSIONAL INVESTORS ONLY

This document is for the exclusive use of investors acting on their own account and categorised either as "Eligible Counterparties" or "Professional Clients" within the meaning of Markets In Financial Instruments Directive 2004/39/EC.
This document is of a commercial nature and not of a regulatory nature.
This document does not constitute an offer, or an invitation to make an offer, from Société Générale, Lyxor International Asset Management or any of their respective affiliates or subsidiaries to purchase or sell the product referred to herein.
We recommend to investors who wish to obtain further information on their tax status that they seek assistance from their tax advisor. The attention of the investor is drawn to the fact that the net asset value stated in this document (as the case may be) cannot be used as a basis for subscriptions and/or redemptions. The market information displayed in this document is based on data at a given moment and may change from time to time. The figures relating to past performances refer or relate to past periods and are not a reliable indicator of future results. This also applies to historical market data. The potential return may be reduced by the effect of commissions, fees, taxes or other charges borne by the investor.

Lyxor International Asset Management (Lyxor ETF), société par actions simplifiée having its registered office at Tours Société Générale, 17 cours Valmy, 92800 Puteaux (France), 418 862 215 RCS Nanterre, is authorized and regulated by the Autorité des Marchés Financiers (AMF) under the UCITS Directive and the AIFM Directive (2011/31/EU). Lyxor ETF is represented in the UK by Lyxor Asset Management UK LLP, which is authorised and regulated by the Financial Conduct Authority in the UK under Registration Number 435658.
Research disclaimer

This material reflects the views and opinions of the individual authors at this date and in no way the official position or advices of any kind of these authors or of Lyxor International Asset Management and thus does not engage the responsibility of Lyxor International Asset Management nor of any of its officers or employees. This research is not an offer to sell or the solicitation of an offer to buy any security in any jurisdiction where such an offer or solicitation would be illegal. It does not constitute a personal recommendation or take into account the particular investment objectives, financial situations, or needs of individual clients. Clients should consider whether any advice or recommendation in this research is suitable for their particular circumstances and, if appropriate, seek professional advice, including tax advice. Our salespeople, traders, and other professionals may provide oral or written market commentary or trading strategies to our clients and principal trading desks that reflect opinions that are contrary to the opinions expressed in this research. Our asset management area, principal trading desks and investing businesses may make investment decisions that are inconsistent with the recommendations or views expressed in this research.